Getting away to the 10,000-year-old secret on our doorstep
By MICHAEL BURGESS
Village News — February 19, 2000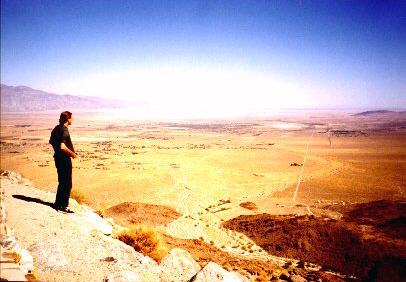 We're within three hours' drive of 17 million people and there's nobody out here
A midlife identity crisis may have left him stuck somewhere between Indiana Jones and Crocodile Dundee but "Borrego Paul," as he likes to be known, runs off-road Jeep tours to rival any ride at Disneyland.
"We're within three hours' drive of 17 million people and there's nobody out here," Paul Ford said at the wheel of Dusty, his faithful Jeep Cherokee. "We can take you to ancient Indian sites, spectacular canyons, prehistoric fossil beds, fascinating mud caves and earthquake faults." All this is in the 600,000-acre Anza-Borrego Desert State Park, only 90 miles from downtown La Jolla.
Ford, or one of his drivers, picks up paying passengers from any pre-arranged Borrego Springs location and takes them on one of several possible desert guided tours.
In late January, the highest daytime temperatures remained close to a comfortable 70 degrees. Already some wildflowers were thinking it was spring. Ford pointed out a clump of Orcutt's asters in the middle of the dirt road.
"There's just no reason why it should grow just there," he said. Rainfall since the preceding July totaled 1.99 inches and there was no sign that the pink and yellow blooms had found anything resembling moisture. To be sure of the optimum flowering-desert experience, visitors can call the Wildflower hotline, (760) 767-4684.
It is a fragile environment. Visitors stepping away from the wheel ruts prevent anything growing for seven years in the dirt where their feet tread. Ford makes sure his passengers follow the rules of the State Park, and they don't get to remove anything from the desert but their own trash.
The park includes territory known by the cattlemen of old as the badlands, because of the many small canyons and caves in which livestock would get lost. During World War II there were secret calcite mines here.
Calcite was polished to optical perfection to provide the essential component for the Norton bombsight. It was mined in the Anza-Borrego desert to fool German spies into thinking the secret ingredient was something more exotic than a crystalline limestone so common in Europe.
Spent ammunition can still be found where General Patton's tank crews used to practice machine-gunning an old Jeep as it was dragged along a short railroad track. A Quonset hut in Borrego Springs, rumored to have been Patton's headquarters is now D&E's restaurant and offers an approximation of Italian food.
Most restaurants close their kitchens around 9 p.m., so diners on a budget should slip into Hilberto's Mexican restaurant, Carlee's Place or The Krazy Coyote Saloon & Grille at an earlier hour.
Within five years Borrego Springs is going to be a world-class desert resort town, Ford said. "But it can't spread like Palm Springs because all the land around it is protected." It's as if Palm Springs had been preserved 60 years ago with a population of 3,000 inhabitants and a world-class four-star hotel, La Casa Del Zorro Desert Resort. Like a 38-acre oasis, La Casa Del Zorro is an ideal base for Jeep tours, hikes, mountain bike rides, dune buggy tours, hot air balloon rides, stargazing and llama treks. But, for those who have no interest in sports more extreme than hot-tubbing, it allows guest to look inward as if a respite were needed from the flat mountain-rimmed wilderness.
The hotel has nine swimming pools and five hot tubs. There are poolside rooms, rooms with fireplaces, even rooms with baby grand pianos. Self-contained casitas with two, three or four bedrooms have private pools and all the convenience of room-service dining.
La Casa's formal dining rooms, the Butterfield and the Presidio room, seat up to 110 people for top-notch cuisine and an international menu. Casual dining is offered in the Fox Den Lounge with live entertainment in the evening.
A guest can just languish poolside without a care for what the desert has to offer. There is a fully equipped gym, modestly referred to as a fitness room. There is massage therapy. There is a salon for facials, manicures, pedicures and hair styling. There are six championship tennis courts; a special 75-foot by 30-foot swimming pool just for people who want to swim laps; and a nine-hole putting green for those who just want to putt.
Or Borrego Paul and his drivers can take a special party for an evening trip to the foothills of the Santa Rosa Mountains culminating in an open air dinner fully catered by waiting staff from La Casa Del Zorro.
For more information about La Casa Del Zorro Desert Resort, 3845 Yaqui Pass Road, Borrego Springs, Calif., 92004, call (760) 767-5323 or see the Web site. - http://www.lacasadelzorro.com/ - http://www.desertjeeptours.com/
---