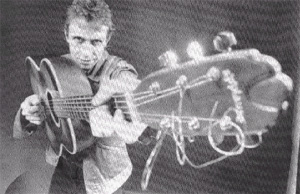 Arnold is a Leicester-based comedian, singer and songwriter who mixes stand-up comedy with his own highly original songs and poems. He is an accomplished and energetic performer whose topics range from R.E.M. and The Smiths to health freaks and the politically correct.

He is a veteran of the counterculture, having worked with the likes of Roy Harper and John Cooper-Clarke. He has played at the Glastonbury Festival and is also a regular on the national alternative comedy circuit performing at venues such as the Comedy Store and the top clubs nationwide. He has appeared on Johnny Walker's "A.M. Alternative" on Radio 5.

As well as working the length and breadth of the country, Arnold is a stalwart of the local scene. Indeed, he is regarded by many to be the man who put the wart in stalwart.

He is currently performing comedy and preparing to record a follow-up to his acclaimed album "Unbolted."
Reviews of "Unbolted":
"Excellent ... Robyn Hitchcock meets Billy Bragg"
— Leicester Mercury
"A mix of post-Kinkesque lyricism and country feel, all the tracks are strong and improve with listening. The strongest tracks for me are 'Magic Gypsy' and 'Nothing,' both of which sound personal and bring out the best in Bolt's distinctive voice. 'Slap Me Down,' the final track, has real energy and is a great ending song. If you like the Beatles, Kinks, or some new country stuff by the likes of Slaid Cleaves, then this is for you. (Rating: 4/5)"