Having A Whale of a Time With Captain Morgan
By MICHAEL C. BURGESS
Village News — February 27, 2002


The opening number seemed to say it all. Frank Morgan's intensely soulful interpretation of a Thelonious Monk classic, on Jan. 31, was arguably the most moving performance at the Athenaeum Music & Arts Library in more than a year.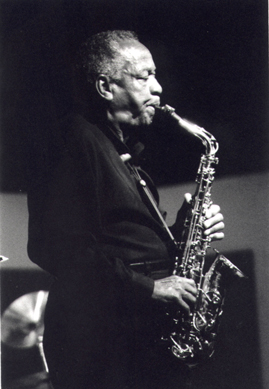 For a full thirty years he was missing from the scene as if dragged beneath the ocean by Moby Dick.
His audience was privileged to hear, in "Round Midnight," the very essence of what Bertrand Tavernier spent more than two hours attempting to express with a movie by that name. In the 1986 film, a veteran saxophone player slowly loses his personal battle with addiction. Morgan's strong but tender alto testified that he's been there too. For a full thirty years he was missing from the scene as if dragged beneath the ocean by Moby Dick. But, unlike Captain Ahab, he conquered his beast and somehow found the strength to resurface once again to share the music with the rest of us.
"It's good to be here," he said initially and, with measured humility, "It's very good to be anywhere."
It must have been a blessing and a curse that Morgan learned his craft directly from heroin addict Charlie Parker. There aren't many musicians this side of the Styx who can claim that.
Morgan's father, guitarist Stanley Morgan, was a band-mate of Parker's in his early Kansas City days. Frank Morgan showed an early musical affinity for Parker's blues-influenced style and trademark harmonic language. He gained his first professional experience as a musician on Los Angeles' Central Avenue in the early 1950s, and recorded his first album as leader in 1955 with Wardell Gray, Conte Candoli, and Carl Perkins. Morgan was widely hailed as one of the chief heirs to Charlie Parker's legacy but that was before the leviathan took him from us.
Fast forward to 1985 and Morgan made his first national tour and issued a series of highly acclaimed comeback albums. Here at the Athenaeum in 2002 he appeared with noted bop pianist-composer-arranger Art Hillery. "I never had the chance to play duo with him," Morgan said. "I've admired him for many years."
Hillery is no Thelonious. His left had is velvet soft on the piano keys and it always seems to know what his right hand is dong. His dignified presence provided an ideal counterpart to Morgan's sax. Without struggling to sound like a band, their collaboration drew strength from the generosity with which they allowed space for each other to fully express themselves.
Morgan, recovering from a toe injury, hobbled out of the room altogether while Hillery played several songs on his own, including a very tender "Night in Tunisia" (Gillespie) "Well You Needn't" (Monk) and "Flamingo," one of his own compositions. A similar interlude occurred in the middle of the second half allowing Hillery to play "I Thought About You" and "All The Things You Are."
Returning on the second of these occasions, Morgan said, "The funny thing about being a saxophone player: When you have to go, you have to go!" So the mystery remains whether all this artistic generosity is just the onset of prostate trouble.
Morgan's mastery of his instrument allows him a wealth of choices, in terms of tone and timbre. His interpretation of Ellington's "Don't Get Around Much Any More" was, by turns, jaunty and mellow. Even when his mouthpiece required some adjustments, he succeeded in developing a still rounder tone. Commenting on the song's title, Morgan said, "That is not exactly true. We go to lots of places now."
His solos tend to be larded with quotes from Parker. He explained how Honeysuckle Rose uses the same chords as several Parker compositions including "Scrapple From the Apple." Another Parker quote turned up in the duo's up-beat rendition of "What Is This Thing Called Love" with its searing high notes and alternating mellow sax chorus and driving piano choruses.
"Be careful when you go home," he said. "We don't have any jazz fans to spare. Thank you for saving my life."
Tickets are already available for the Athenaeum's Spring series of jazz concerts to be held at the Neurosciences Institute's auditorium.
Dates are as follows: Marily Crispell/Gary Peacock/Paul Motian, Wed. Mar. 20; Geri Allen Trio, Tues, Mar. 26; Ray Brown with Holly Hofmann and Wed. April 1 and Lee Konitz Quartet, Wed. April 24.
A ticket to all four dates costs $88 ($76 waiters). Tickets to single concerts are $24 each ($21 members). All concerts begin at 8 p.m.
Phone (858) 454-5872 for reservation and cancellation information.
---