Havana box man knocks 'em dead
By MICHAEL C. BURGESS
Village News — May 9, 2001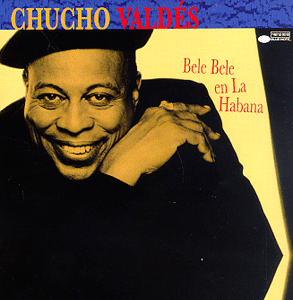 The hype is justified. Valdés has it all.
Riding high on the wave of Latin jazz's popularity, the greatest living jazz pianist of Cuba (and possibly the world) took San Diego by storm on Sunday April 8.
A front-page feature in La Jolla Village News the previous Wednesday, and possibly a cover story in another newspaper's Night & Day section, had ensured that every seat was sold out and several devotees were standing at the back of the auditorium for the opening concert of the Athenaeum Music & Arts Library's spring piano series.
Introducing the quartet, the Athenaeum's Dan Atkinson said, "Chucho Valdés is one of the absolute giants of jazz." He reminded hardcore concert-goers they'd heard but one aspect of Latin music last fall when the excellent Jobim-Morelenbaum Quartet came to play the Neurosciences. But now another side of that tradition had arrived to make its San Diego debut.
The contrast is a striking one.
While some of Valdés' arrangements conformed to the convention under which each band member takes a turn at a solo, other compositions were rendered just as comfortably in that tradition where every member of the rhythm section is part of a delicate percussion machine to keep the Latin groove chugging along while the piano maestro plays dazzling improvisations over the top.
A vigorous rendition of "That Old Devil Moon" offered the best of both worlds. The rhythm section was a virtual locomotive until a solo by bass player Lazaro Rivero Alarcon opened up some fascinating polyrhythms.
Likewise drummer Ramses Manuel Rodriquez Bazalt has to be very much a team player in this group and it was not until well halfway through the second set that he could offer his solo talent.
To speak of Valdés' deftness of touch is to damn him with faint praise. He writes poignant melodies with strong hooks. In their execution his improvisations draw as easily from Beethoven as from more predictable jazz sources. A sequence of chords may soar in the style reminiscent of fusion, but from the same instrument Valdés hammers out riffs with as much authority as a member of the Ellington, Tatum, Monk pantheon.
A medley entitled "Ellington par la Salsa" spiced up familiar classics such as "Satin Doll" and "Caravan" with a Latin flavor that eventually had every member of the group drumming on cowbells.
At center stage percussion specialist Yaroldy Abreu Robles personified the Cuban commitment to rhythm like some trickster high priest with two pairs of congas and a whole arsenal of cowbells and other effects. He dropped those sounds judiciously into the mix with the air of a master chef seasoning a gourmet dish. He also sings. As vocalist he brought a specially stirring opening to the second set.
An elegantly melodic bass solo opened "El Rumbon" (the party) an original Valdés' composition from his 1999 CD "Briyumba Palo Congo" (religion of the Congo). This was developed further into an anthem beaten out by the piano when it joined in. By its climax, Valdés' was an orchestral conductor playfully marshalling the efforts of drummer Bazalt and percussionist Robles.
One more song "Son numero uno" was played when a standing ovation drew the band out for an encore. This infectious little ditty effectively crosses the language barrier when the group, and then the audience, joins in the clap-clap game by supplying the missing beat.
The hype is justified. Valdés has it all.
The spring piano series continues on Tuesday, May 15 when Chick Corea's New Trio will play two concerts: one at 6 p.m. and one at 8:30. The Neurosciences Institute is located at 10640 John Jay Hopkins Drive (north off Genesee Ave., near N. Torrey Pines Rd.) There is ample free parking adjacent to the auditorium.
Tickets for either show are $23 (members $20) if not sold out already. Cancellation bookings may be attempted through the Athenaeum, 454-5872.
---